Not me…… my artwork!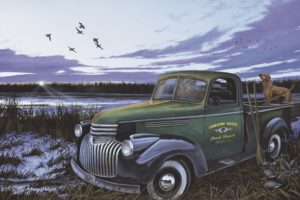 No this isn't going to be some long rant about how I was insulted or disrespected.  That was just a cheap way to get your attention.  This is going to focus on how my artwork has been transformed into personalized art.  It was about 10 years ago that i first began developing artwork that could be personalized.  Through my many customers, I learned that most had businesses, farms, cabins, lake houses, etc.  This provided a great opportunity to have those names prominently featured on artwork that they could display in the home, office, or elsewhere.   The challenge for me was to make that name and/or logo be a part of the artwork not simply a gross overlay of text and image that distracts from it.
Fortunately, old trucks fit the bill.  Why?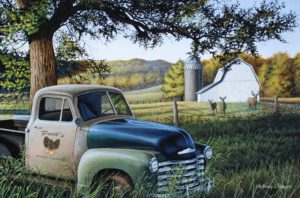 Memories.  As a subject, old trucks have broad appeal and most of us can remember Grandad's old truck or may have owned one ourselves.
I love old trucks!  I especially like vintage Chevy Trucks from the 40's and 50's.  This makes researching and painting them quite enjoyable.
Truck doors make great places to add personalizing such as logos and names.  I strategically place the truck in a position where the door is visible and at an angle suitable to drop text and logos.
Wildlife scenes can easily incorporate an old truck.  Whether it be in a barnyard, field, woods, or a country lane, trucks look great in these settings and I am able to add wildlife easily and natural.
While truck paintings are perfect for personalizing my artwork, they aren't the only ones.  I have other paintings where the barn or a sign post is able to be personalized.  If you have other ideas for how you would like to see personalizing, let me know by leaving a comment.
Thanks for tuning in!
---

Use Promo Code

DadsRock!

at checkout