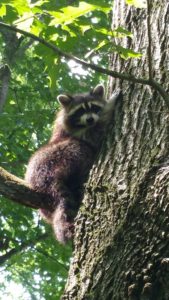 In order to create the realism I want in my artwork, field research is a necessity and a great joy.  Each year I carve out time to be with nature to fish, hike, and photograph wildlife, landscapes, and unusual lighting.  Hopefully, the photos will eventually work their way into a future painting.  It's not always easy for me to encounter wildlife up close, so when opportunity falls in my lap, I need to be prepared.
That's where this guy comes in!
One hot, humid, summer day, in Indianapolis provided me an unexpected encounter.  While visiting a friend, this raccoon was enjoying a feast of cat food left on the patio.  He didn't seem to care that the food was intended for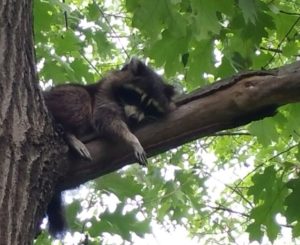 the cat that lived there.  Instead, he just ate and ate and ate.  When we finally came outside, he didn't really seem to be bothered by us either.  As my friend began shooing him away, he simply lumbered to the first tree and began the climb upward.  A full belly and the heat of the midday sun seemed to make his climb even more difficult.  After some time he finally reached the meager height of about 8 feet where he simply collapsed on the first branch and began panting.  Thank goodness for cell phone cameras because the whole time, I'm shooting photos of him at his resting spot.  Eventually, he fell asleep right there not being bothered by us at all.  I had plenty of photos, so we left him in peace to recover.
I k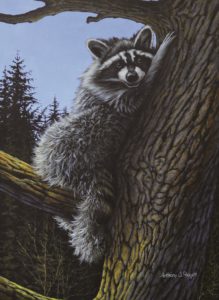 new this pose would make for a great painting.  Using my artistic license, I created a more natural setting for the raccoon and subdued the light as it's unusual to see them active during the day. (A "Zooming" feature is enabled on this image for computers.  Simply hover you cursor over it to see the detail.)  I was able to finish this piece last winter and titled it "Raccoon Rest Stop."
I'm not completely sold on the title for this piece, so if you have any suggestions please reply.
Also, if this particular painting really speaks to you, and you have an interest in collecting an original, it is still available.  Being a smaller painting (13″x19″), it is more moderately priced than many of my other originals.  As always, reprints in different sizes and formats are available.  Contact us for more information.
Thanks for reading this post and stay tuned for more!