[slideshow_deploy id='182′]
"If there are no dogs in Heaven, then when I die I want to go where they went."—Will Rogers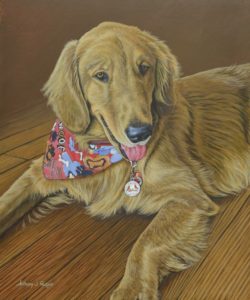 Through the years, "Man's Best Friend" has provided plenty of inspiration for my artwork.  For instance, my yellow lab, Toby, has been featured in many paintings and one piece in particular called "Diligence" earned for me the honor of "2008 Ducks Unlimited International Artist of the Year."   Sporting dog breeds especially make great subjects to include in a wildlife scene.  Their intensity, focus, and determination are tangible when they have picked up the scent and their instinct kicks into high gear.  Capturing those moments in paintings is most enjoyable.
Dogs and other pets also make great companions.  One of the best things about pets is their ability to raise our spirits and give us unconditional love and affection.  They are great companions and definitely part of the family.  This is one reason many people like to commission paintings of their beloved pets.  Over the years, I have painted many of these pieces of artwork, and their size, composition, and cost have varied dramatically.  You can see many of these paintings in the included slideshow at the top of this post.
"The only creatures that are evolved enough to convey pure love are dogs and infants."—Johnny Depp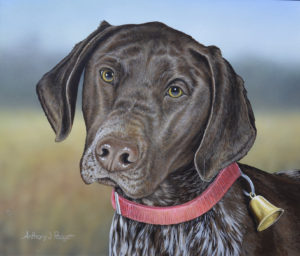 While having an original painting of your pet may be attractive, unfortunately for many, the price to commission a large original painting exceeds their budget.  This is one reason, I decided to start a Companion Series of pet portraits for my customers.  These smaller (14″x14″) originals really focus on your pet (a dog, cat, turtle, groundhog, or whatever your companion may be) as the main subject and I am able to capture their personality and spirit in a painting.  These are sure to be family keepsakes for years to come.
If this artwork appeals to you, be sure to check out this blog's special offer below to get on my busy painting schedule!  Also, if you enjoyed this post please share it with your friends and family who also have a great affection for their pets.  Use the convenient share buttons at the top and bottom of this blog.  Thanks for following along!  – Anthony J. Padgett
---

---
Just for fun, take the poll & see the results!